YOUR PARTNER FOR LONG LASTING KITCHENS

Welcome to Akruti Kitchens
We are leading manufacturers and sellers of Modular Kitchen AND Furniture in Central India.
Akruti Home Products has established itself as a key kitchen/Furniture Installation & manufacturing company managed by professionals having 15 years experience in kitchen industry and promoted by Atul M. Hedaoo, (M.E.-Civil Engg.)
Our products are kitchens and wardrobes, book shelves, computer tables, office tables, executive tables, modular office partitions, credenza and pedestals.

In-house manufacturing plant within city limits for quick delivery and factory made finish.
Experienced staff with full knowledge in designing and execution.
Installed around

4500+

kitchens till date with maximum in west Nagpur area.
Industry first-- base frame structure made of steel for life time warranty.
Shutters made of 18 mm marine grade plywood and mr+ laminates from merino.
100 + colour options available for projects.
Our contemporary kitchens are bold and stylish, reflecting latest trends from Europe.
We help you transform your traditional kitchen area to a sleek modern system for today's lifestyle. We promise you a superbly well crafted design and delivery of your very OWN kitchen by extremely expert hands!
4500+
Installations
Full Customization
Visit Our ShowRoom
Personal Attention
After Sales Servicing

AKRUTI KITCHENS
Frame structure in M.S. powder coated/ STAINLESS Steel welded joints hence more durable and rigid.
Modules can be shifted. No support required.
More strength and load taking capacity.
Height / slope adjustment possible.
Cleaning simpler due to detachable skirting arrangement.
Baskets / accessories height adjustment possible even by customer.
No wood used. Total protection against Termite, borer and water resistant due to powder coating.
Factory made hence more precise and sturdy.
Front Shutters options available in Marine Plywood with PF laminates. Fully Factory made.
OTHER OPTIONS
Frame structure in aluminium pipe with screwed joints. Weak joints due to screwing.
Cannot be shifted.
Screwed joints provide low stability & less capacity to take granite weight.
Once cut, height adjustment not possible.
Cleaning difficult at joints and below otta.
Requires carpenter service to adjust basket height.
Wood in aluminium prone to termite attack and deformation.
Assembled on site. Prone to variation in size & finish resulting in poor assembly.
Front shutters made by carpenter with beading giving poor finish.

MANUFACTURED at our indigenous plant using latest machinery from FELDER-Austria and a highly professional team of workmen.
Our Special advantages for your upcoming projects.
Infinite design and colour options.
Knock down cabinets and kitchens made of BWR grade PLYWOOD maintaining high quality standards.
Front Shutters are made of 18 mm Marine Plywood and Merino MR+ Laminates, making it the most durable shutters.
Colour option include more than 30 options in High Gloss and Matt finish.
Cost and time saving project work with innovative designs which will have value added function.
Flat owners can directly fit modular accessories/ shutters on our frame. Labour saving as the complete kitchen can be ready in short period and at less cost.
Machinery includes Panel Saw, Edge Banding, Multi-boring, Molder and Hot Press, Post-forming machines of Felder-Austria Make.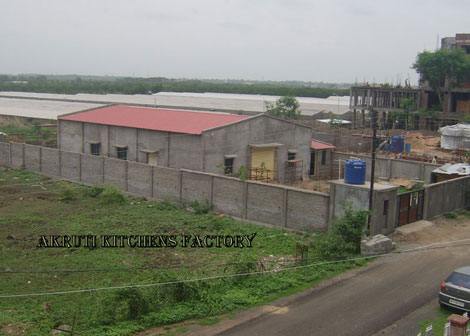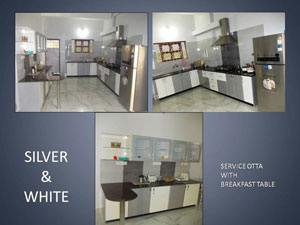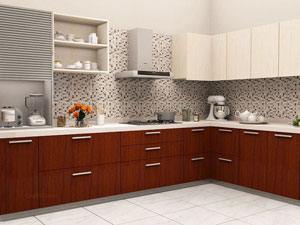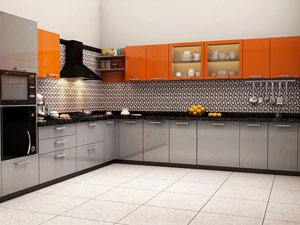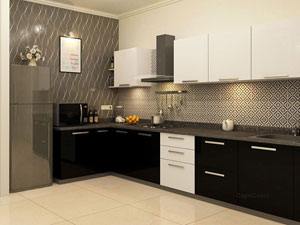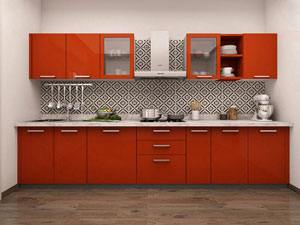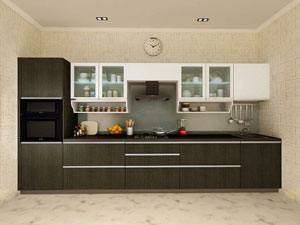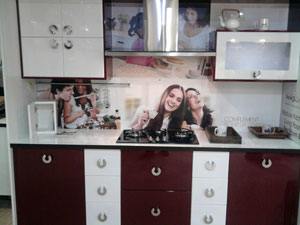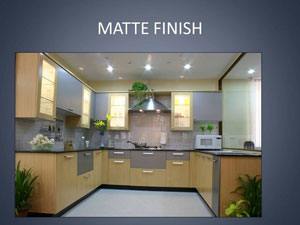 Very nice place for modular kitchen and bedroom furniture wide range of choices are available. If someone planning to go for modular kitchen, they must visit this place as it is very reasonably priced.
Best place to make your kitchens, with good quality material and variety of appliances used..Best part is the after sales services,they have very quick and responsive team to resolve any problems... As an Interior Designer I recommend Akruti kitchens.
Best place for good and functional modular kitchen. prompt service and delivery. affordable prices,efficient workers
Nice work and prompt service, As an Interior Designer I recommend Akruti kitchens.